Case Study #111111 - A Time For Creating Jobs - Workforce Development Programs
RE-USE Consulting has helped train hundreds of workers, but never at such a rate as the last 3 years. The most recent classes have proven to be the best yet as we continue to refine the process. The key has been to prepare them for entering an industry that is still pretty new and needs experienced people to help it grow. What a time for us all to support this expansion, given the following market conditions: 10's of thousands of vacant and abandoned buildings, hundreds of thousands out of work (we need about 100,000 of them), millions of strugging building owners needing to find lower priced quality building materials.

Case Study #041510 - Mano y Mano - Building Harvesting vs. Demolition
Our new building harvesting techniques were put to the test on a pilot project where three very rough abandoned homes at 1650 sq ft each were harvested in 5 working days in an area not known for having many recycling options. Results: Landfill diversion: 68%; Reusable material value: $5000; Wood diversion on home #2: 95% of all wood diverted from landfill; Labor hours required to harvest #2: 58
hours in 1.5 days. Pretty good results considering it was the contractors first ever decon project.

Case Study #091109 - Extreme Decon - ABC's Extreme Home Makeover.
Buffalo Reuse asked us to come help with the first full building deconstruction project covered on ABC's Extreme Home Makeover. We had the 2800+ sq ft home down in 15 hrs, 5 hrs ahead of Extreme's time limit. Many of the materials were reused in the new home, in the new community garden, in the surrounding homes, and the rest were sent to other good causes and the Buffalo Reuse store. In total, we diverted about 93% from the landfill. It was such a good project, ABC produced it as a two-hour episode!


Case Study #090909 - Let's Go Workout At The Gym.
We traveled to an Island for this project. The school district we were working for planned to keep some of the materials for owner-reuse, but the rest was sold and 100% of the money collected was donated back to the school district to help make up for budget shortfalls!

This was an interesting job as it was a 5000-5500 sq ft gym structure with 18-20' ceilings that we had down to the floor structure in 3.5 days using less than 3 workers per day. In the end, it took around 7-8 days to complete the salvage of reusable materials, which totalled over 60% of the materials.
______________________
Case Study #041009 - Thanks Cincinnati!
We wanted to thank Cincinnati (and Chicago) for getting Ken Griffey Jr. back to the Seattle Mariners, and jumped at a chance to help Building Value in Cincinnati complete their first full building deconstruction job. The building was a 1200 sq ft horse barn with a full loft and was completed under less than optimum conditions. It snowed two out of three days and our equipment was limited to staying on a 10' wide driveway to avoid getting stuck in the mud. We diverted roof sheathing, rafters, collar ties, loft decking, loft joists, interior wall paneling, almost all wall studs, and a variety of other items including doors, windows, etc. The reason I was blessed by this job was because most of the 7 workers were from the Easter Seal Work Resource Group's job training program (now green collar job training right?!) and had varying degrees of learning disabilities. What a great crew! They worked hard and didn't complain. Everything was denailed and hauled back to the store where some of the material will feed the reuse store and some will feed their value-added workshop. Great job guys!

Case Study #022208 - 'Smooth Sailing'
We called this one Smooth Sailing because 1. it was on the waterfront of Puget Sound, 2. the weather was great, and 3. the deconstruction went smoothly and efficiently
This project involved RE-USE helping deconstruct a 1600 sq ft 1 1/2 story home with about 800 sq ft of deck. We completed the deconstruction of the home and decks in 72 labor hours. The processing and hauling took another 70 hrs to complete. The final rate was 11.27 sq ft per hour or 2.35 days for a crew of 6 working 10 hrs/day. The final diversion numbers are not all in yet, but we are hoping for a jobsite diversion rate of over 70% (not including off-site commingled recycling). This project was classified as a harvesting-style deconstruction project.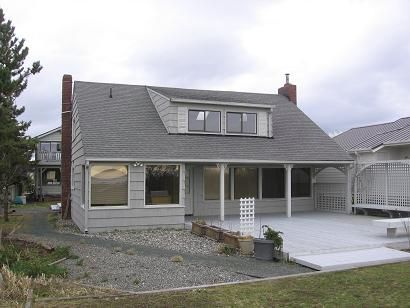 Case Study #022208 - Pictures above are examples of materials diverted for reuse:  skylights, brick, windows, doors, plywood, rafters, ceiling joists, wall studs, floor joists, decking, beams, cabinets, lights, more...


__________________________________